Twenty Years of Better Catamarans
High-performance offshore fishing catamarans have captured widespread attention only in the last five years or so for their numerous advantages — softer ride, better fuel efficiency, and greater stability. But we were building cats long before that recent surge in popularity. In fact, we've been carefully refining our running surfaces, layouts, and construction since 1997, and we believe that when you take the wheel of a Prowler, the results will speak for themselves.
It hasn't all been gradual refinement, though. In 2015, our solid foundation in catamaran design served as a launchpad for innovation when we debuted the game-changing Prowler 42 — a first-of-its-kind, high-deadrise, asymmetrical fishing catamaran that combines the best elements of offshore go-fast cats with the best of deep-vee monohull center consoles into an efficient, smooth-riding, well-mannered, 70+ mph fishing machine with lines like no other cat on the water.
Softer Ride through Superior Design
There's little debate anymore that a well-designed catamaran delivers a softer ride than a well-designed monohull of similar proportions. Obviously, there are still plenty of reasons to choose a monohull over a cat, but if your priorities are a comfortable ride in sporty seas, stability on the drift or troll, and fuel efficiency at cruise, a cat is what you want.
The New York to Bermuda record of 22 hours, 23 minutes set by Bill Ratlieff and Neil Burnie in 2002 in a stock Prowler 306 shattered the previous record and stood until 2012.
We demonstrated that clearly back in 2002, when company owner Bill Ratlieff and friend Neil Burnie set a new record for the Bermuda Challenge — an anything-goes, 780-mile run from New York City to Bermuda — in a stock Prowler 306, the predecessor of today's 31. Their time of 22 hours and 23 minutes beat the previous record (set in 1999 in a 26-foot World Cat) by seven hours and stood for a remarkable 10 years, until it was bested in 2012 by less than an hour with a purpose-built monohull powered by twin 350 hp turbo diesels.
Prowlers employ sharp entries to slice through chop. High tunnels minimize "tunnel slap," while a central "bulb" on the tunnel roof directs spray down and back, virtually eliminating "sneeze."
Today, thanks to 20 years of testing and refinement, we believe our designs not only ride better than competitive monohulls but also better than other cats. In fact, our 25- and 31-foot designs are so unique they're patented, while several aspects of our new 36- and 42-foot models are patent-pending.
The Prowler ride is partly a function of sharper entries — 55˚ on the Prowler 36 and Prowler 42 and even more on the 25 and 31 — combined with greater deadrise over the length of the sponsons. The 26˚ deadrise at the transom of the 36 and 42, in fact, is higher than the 24.5˚ deadrise found on many offshore monohulls.
Inspired by offshore racing cats, the asymmetrical sponsons of the 42 and 36 improve high-speed manners and reduce the tendency of cats to lean outward in turns — while breaking the mold for catamaran aesthetics.
Meanwhile, higher tunnels minimize the "tunnel slap" common in other cats when a wave impacts the hull bottom between the sponsons. A patented turbulent stabilizing venturi system virtually eliminate "tunnel sneeze" — the spray that blows back out the front of the tunnel on many cats. Reverse chines further reduce reduce spray, making Prowlers among the driest cats on the water.
Finally, our newest designs — the 36 and 42 — use a first-of-its-kind asymmetrical sponson design inspired by offshore race boats for smoother, more predictable high-speed performance and faster, safer turns.
Ultimate Fishing Functionality
The Prowler 42 and 36 are the only fishing catamarans with fully flush decks, allowing anglers to safely work a fish 360 degrees around the boat without negotiating steps. The coaming bolsters remains at a comfortable level from bow to stern.
Designed by a lifelong waterman, Prowlers place a premium on fishing and diving functionality. That means more than just adding a bunch of rod holders.
In addition to three-piece construction on all models — which creates valuable under-gunwale space for rods and gaffs as well as plenty of toe room — the 36 and 42 feature fully flush decks. Unique among offshore fishing cats, this allows an angler to comfortably and securely work a fish all the way around the bow with the coaming pad at mid-thigh the whole way and no steps to negotiate.
The 31, 36, and 42 all feature twin livewells with clear lids in the cockpit corners where they're most easily accessible. Rounded corners and available pressurization systems keep baits fresh on long runs. A range of cockpit tackle storage and rigging options are also available.
Our livewells are equally practical. The single large well on the 25 is easily accessible on the aft side of the leaning post, while the 31, 36, and 42 all offer large, twin wells perfectly accessible in the cockpit corners. All wells feature clear lids and bait-friendly rounded walls, while the 36 and 42 come standard with wraparound aquarium-style ports. Pressurized bait systems are available as an option on all models.
Prowler consoles are designed with ergonomics and utility in mind. Expansive electronics panels easily accommodate today's multiple large displays — up to triple 16" screens on the 36 and 42 with room to spare.
Expansive electronics panels on consoles comfortably accommodate multiple large displays — from twin 12" on the 25 to triple 16" on the 36 and 42. A variety of cockpit tackle storage and rigging options are available as well. And with their thickly insulated walls and lids, precise fit, and top-quality seals, we'll put our built-in insulated lockers up against any cooler in the world for ice retention.
As a fully custom builder, we're also happy to mount as many rod holders as you want, wherever you want them. In fact, buyers frequently visit our facility to climb up in their new boats and plan out their ideal rod holder configuration.
More Space Above, More Space Below
In offshore fishing boats, speed, ride, and efficiency are all critically important. But so are comfort, room, and storage. In other words, what's above the rubrail is almost as important as what's below it — something too many boat builders seem to forget. Over the years, Prowlers have built a reputation for spacious cockpits, cavernous compartments, and practical console and seating designs.
On fishing and dive boats, the cockpit is the center of activity. We locate our consoles farther forward, creating expansive cockpits. Even with custom aft-facing seats, the 31's cockpit feels big enough for a game of pool.
We recognize that on a center console offshore fishing boat, the cockpit is the natural center of activity. So we position our consoles farther forward than most competitive cats and monohulls, making for roomier cockpits. The Prowler 31's cockpit, for example, measures some 60 square feet. Many builders move their consoles as far aft as reasonably possible in order to deliver a smoother ride at the helm. Our hull designs allow us to shift the consoles forward, increasing usable space while still delivering comfort at the helm.
Prowlers make the most of every cubic foot of space, offering unmatched capacity for gear, ice, and fish. This midship fish locker represents less than a quarter of the below decks storage on the 42.
We also make use of every available cubic inch of space below the sole in order leave decks as uncluttered as reasonably possible. The Prowler 31, for instance, offers a massive 383-quart, fully insulated forward fishbox, complemented by a pair of 480-quart insulated boxes aft and another pair of 198-quart lockable, lighted storage compartments with integrated rod racks on either side of the console. And that's just below deck.
Although the catamaran hull form precludes the step-down consoles found on deep-vee monohulls, all Prowlers have room in the console for a full-size marine head. The console on the 36 and 42, in fact, is big enough for a queen-size airbed.
Our consoles match our compartments in size, featuring ergonomically designed controls, a variety of custom seating and storage configurations forward, and huge interiors that can be used for additional dry storage, a full-size head, or even sleeping accommodations up to a queen berth. Leaning posts are also customizable with a range of forward and aft-facing seating options, insulated storage, spacious tackle cabinets, and plumbed rigging centers. And our feature-rich hardtops are oversized for maximum coverage.
A walk-through transom allows easy and secure access to a large platform between the engines — perfect for water entry, climbing in and out on the trailer, working a big fish, and even clearing line from the props.
At the stern, our signature walk-through transom design allows safe and easy access to a large platform between the engines — perfect for entry and exit in scuba gear or working a big fish around the engines. From the platform, you can also easily clear line from props without so much as getting your feet wet.
Forward, the 25 and 31 offer extensive, customizable storage below the step-up casting deck. The 36 and 42, on the other hand, feature the only true flush decks of any offshore fishing catamaran for added security when fighting a big fish in challenging conditions.
Patented Running Surfaces
The 25 and 31 use keel pads and a patented system of full-length lifting strakes to reduce wetted surface and improve efficiency. High tunnels minimize form drag and reduce in-tunnel turbulence.
Since the beginning, we've taken pride in the fuel efficiency of our boats. Thanks to a combination of relatively light weight and proprietary design elements, Prowlers require less horsepower to deliver equivalent performance, resulting in significantly improved mileage. The 25 and 31 employ keel pads and a patented system of full-length lifting strakes to significantly reduce wetted surface on plane, while the 36 and 42 use a dual-stepped bottom to break surface tension and increase efficiency. High tunnels allow water to enter freely at the bow and exit completely at the stern, minimizing form drag and in-tunnel turbulence for additional efficiency gains.
Pronounced twin steps on the bottoms of the 42 and 36 increase efficiency and flatten running attitude by introducing a cushion of aerated water beneath the aft part of the hull
Efficiency obviously varies with conditions, rigging, and load, but our owners report that the 42 rigged with twin Yamaha 350s cruises near 40 mph loaded while getting better than 1 mpg and tops out in the mid-50s. With quads, she can exceed 70 mph. The 31 rigged with twin 300s cruises in the high 30s at better than 1.5 mpg — and some owners report pushing 2 mpg.
Our signature efficiency is also a key safety consideration if you lose an engine offshore. The Prowler 25 can plane with as little as a single 90 hp engine, while the 31 can plane and run about 15 knots with a single 225. The 42 and 36 both plane off with a single 350.
Three-Piece Catamaran Design
Unlike today's mass-produced catamarans, Prowlers feature three-piece construction. In fact, although other custom builders have since followed suit, we designed and sold the first commercially available three-piece fishing catamarans.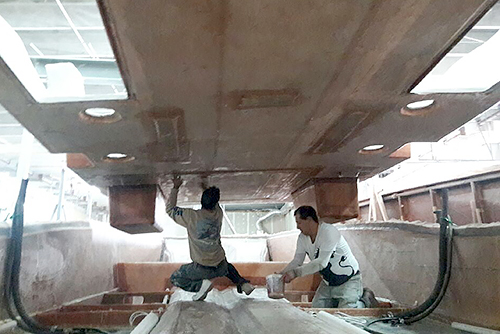 While the hull (bottom) is still in the mold, the liner, consisting of the deck and inner hull sides, is lowered and bonded in position. The cap comes last and is attached to the hull under the rub rail.
Prowlers are assembled from three main parts: the hull, liner, and cap. The hull is essentially the shell into which the rest of the boat is built — everything you see below the rub rail when looking at the boat from the outside is the hull. The stringer system is bonded into the bottom of the hull.
The liner is another essentially tub-shaped piece consisting of the cockpit sole, bulkheads, below-decks storage compartments, and the inside vertical surfaces of the sides. The bottom of the liner rests on the stringer system in the hull, and the outer sides of the liner are bonded to the inner sides of the hull. Everything you see below the gunnels when standing inside the boat is part of the liner.
Three-piece boats add valuable space under the gunwales for storage of rods, gaffs, washdown hoses, and more — plus room to plant your feet securely while working a big fish.
The cap is a basically ring-shaped piece that sits on top of the hull and liner assembly. The covering boards where rod holders and cleats are mounted, the forward deck, and the top of the transom are all parts of the cap. The joint between the cap and the hull is hidden by the rub rail.
Three-piece construction has numerous structural advantages, but it also adds usable space and improves safety. On two-piece boats, where a single piece replaces the liner and cap, the hull sides are thick and hollow — about the same thickness as the tops of the gunnels. That results in narrower decks and less under-gunnel storage for rods and gaffs and limits mounting options for courtesy lighting, rod holders, and other accessories. Three piece construction also allows for plenty of space to plant your feet under the gunnel and brace your thighs securely, for improved strength and safety when fighting a big fish.
Advanced Materials, Traditional Craftsmanship
Renaissance Prowlers are built both light and strong with a combination of state-of-the-art materials and techniques and hand-laid craftsmanship. We are proud that the vast majority of even our earliest boats remain in service.
State-of-the-Art Materials
Prowlers are built with materials including (top to bottom) Divinycell foam, Nida-Core structural honeycomb, glass-reinforced high-density urethane, kevlar, specially made quad-axial fiberglass, fiberglass mat, and carbon fiber mat.
We are also proud to use American materials and components whenever and wherever possible.
Hulls are cored for weight savings and rigidity with state-of-the-art materials like Divinycell structural foam core, Nida-Core structural honeycomb, and glass-reinforced high-density urethane and laminated with a combination of biaxial, triaxial, and quadaxial fiberglass — which we have specially made — carbon/kevlar reinforcement, and the highest quality AME 6000 vinyl ester resin. Judicious use of flotation foam makes all Prowlers unsinkable without sacrificing the generous storage we're known for.
Prowler hulls stay in the mold for a minimum of one week to fully cure out before removal. During that time, fuel tanks are installed and liners bonded in. The result: the truest, fairest hulls you'll find anywhere.
Extra reinforcement along the tunnel radius (the meeting of the inside of each sponson and the tunnel roof) with high-density fiber-reinforced urethane means Prowlers can be safely lifted from inside the tunnel by a standard marina forklift. Many other cats require a costly special cradle for lifting that frequently means they can only be stored on outside racks.
Once a hull is complete, it stays in the mold for a minimum of one week to fully cure out before removal, resulting in a truer, more fair hull. Likewise, we install our fuel tanks and bond in our liners while the hull is still in the mold. Unsupported hulls — especially on larger boats — can deform once removed from the mold, and the bonded liner provides critical support.
Thanks to reinforcement of the tunnel radius (where the inside of each sponson transitions to the roof of the tunnel) Prowlers can be safely lifted under the tunnel. Many other cats require costly custom cradles and have to be stored on outdoor racks.
All wiring, plumbing and fuel systems adhere to the highest standards for safety, function, and appearance, with an emphasis placed on ease of access. On a Prowler, you will never struggle to change out a bait pump, test a float switch, or check a connection on the back of your chartplotter.
Epoxy-coated aluminum fuel tanks are foamed in place in sealed compartments between two bulkheads to eliminate vibrations and hull-shock. Tanks do not touch the hull, and there is no access for water entry except through the deck plates; as long as a tight seal is kept around the plates, the tanks remain water-free. We're not aware of a single tank failure in 20 years.
Prowlers are rigged to exacting standards of safety, function, and appearance with an emphasis placed on ease of access. On a Prowler, you will never struggle to change out a bait pump cartridge or check a connection in the console.
Top-quality Type 316 stainless steel fasteners and fittings — as opposed to the less corrosion-resistant Type 304 — are used throughout, and all hardware is through-bolted. Storage compartments are fitted with heavy-duty, locking stainless steel compression latches. Hatches are supported by stainless struts and fully finished on both sides.
We work hand in hand with top aluminum fabricators to create overbuilt, stylish, and functional components for years of trouble free service. Every piece is built to perfectly fit your specific boat.
A Truly Custom Build Process
There are a lot of builders out there that talk about how buying one of their boats is like joining a family. At Renaissance Prowler, our owners are among the most satisfied and loyal in the industry, and we pride ourselves on maintaining that relationship through exceptional accessibility and service for the life of the boat.
Each Prowler is built in close partnership with the buyer. From layout and aesthetics to rigging and power options, your boat is unique. Numerous seating setups — including double-row helm seating on the 42 and 36 — are available.
One reason Prowler owners love their boats so much is that they play a key role in designing them. Each boat we build is created in close partnership with the buyer, allowing an unparalleled degree of freedom and creativity in the process. From layout and aesthetics to engine choice to custom rigging third-party equipment, we accommodate the wishes of the most discriminating customers.
When some builders say "custom," they mean an initial consultation or two to complete a build sheet and then sporadic progress reports. At Prowler, "custom" means you're an integral part of the process from concept to completion — and beyond. In fact, our owners have always been our best salesman.